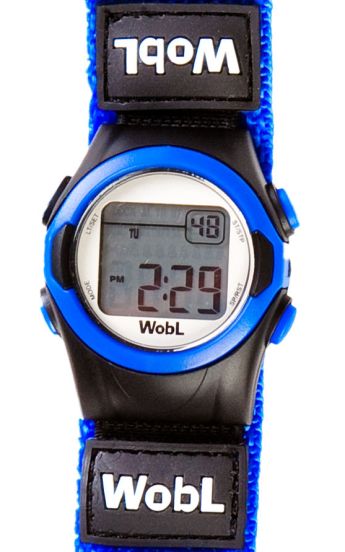 Tallentaa 43%
Tarjoushinta
62,00 €
Normaali hinta
109,00 €
WobL
Kellon on suunnitellut WobL ja se on osa heidän erityistä tärinähälytyksen sisältävää kellomallistoaan. Nämä mallit ovat suunniteltu erityisesti lapsille, jotka tarvitsevat muistutuksen esimerkiksi oikeasta kellonajasta jolloin ottaa lääkkeet. Kelloa voivat käyttää myös aikuiset, mutta todennäköisesti paksumman ranteen omaaville tähän malliin tulee vaihtaa erillinen ranneke.
Olemme
WobL -kellojen
virallinen jälleenmyyjä.
Yksityiskohdat
Virallinen jälleenmyyjä
Olemme brändin virallinen jälleenmyyjä. Tämä takaa asiakkaallesi turvan siitä, että kello on aito ja siihen on saatavilla virallinen huolto- sekä takuupalvelu.
Nylonranneke
Ranneke on valmistettu kevyestä ja kestävästä nylonista.
Velcro-ranneke
Kellossa on Velcro -päällysteinen ranneke, joka voidaan sovittaa moneen erikokoiseen ranteeseen sopivaksi.
8 erilaista ajanottotoimintoa
Kelloon on sisäänrakennettu 8 erillistä ajanottomahdollisuutta jotka voidaan asettaa soimaan eri aikoihin.
Värinähälytys
VärinähälytysKello voidaan asettaa joko hälyttämään pelkän värinän tai äänen kanssa. Jokainen hälytys on pituudeltaan 15 sekuntia. Huomioi, että värinähälytyksen jatkuva käyttö kuluttaa patteria nopeammin, jolloin patterin vaihto voidaan vaatia jopa 3-4 kuukauden välein.
Toimintojen lukitus/b>
Digitaalinen kello voidaan lukita, jolloin estetään vahingossa tapahtuvat näytön ja painikkeiden aktivoinnit. Kahta painiketta tulee painaa samanaikaisesti lukituksen poistamiseksi./p>
Ajanotto-ominaisuus (1/100 sek. - 24h)
Alustava aika, kierrosaika sekä lopullinen aika voidaan mitata sadasosan tarkkuudella. Aikaa voidaan mitata 24 tuntiin asti.
Ajastintoiminto
Kellossa on sisäänrakennettu ajastintoiminto, joka voidaan asettaa soimaan intervalleissa 30 minuutin sekä 24 tunnin välein. Intervallin saavuttaessa kello hälyttää.
12/24 tunnin kello
Aika voidaan asettaa joko 12 tunnin jaksolle (AM ja PM) tai perinteiseen 24 tunnin malliin.
Vesitiiviys
Kello ei kestä ollenkaan vettä ja tuleekin pitää poissa veden tai kosteuden lähettyviltä.
Kondensaatio - tärkeää!
Radikaalit lämpötilanmuutokset (esimerkiksi saunan kuumuus tai kylmä pakkanen) saattavat aiheuttaa kondensoitumista (kellon lasin sisäpuolella näkyy tällöin pieniä vesipisaroita). Kello tulee käyttää pikaisesti kultasepänliikkeessä tai kellon huoltoliikkeessä jotta kosteus voidaan poistaa. Mikäli näin ei toimita, voi kello vakavasti vaurioitua. Kellot eivät ole kondensaationkestäviä vaikka olisivatkin vedenkestäviä. Kondesaatio ei välttämättä ole tuotannon virhe, joten se ei yleensä kuulu takuun piiriin.
Hipaisutoiminto
Nappia koskettamalla näyttö ja digitaalinen numero kirkastuvat.
Päivämäärän näyttö
Päivämäärä näkyy näytöllä erikseen.
Toimitus
Peruslähetys - 5-10 arkipäivää
Tämä tapa maksaa 0€ tilauksille yli100 €, and 7 € halvemmille tilauksille.
Pikalähetys seurantatunnuksella - 1-4 arkipäivää
Tämä on pikalähetystoiminto ja maksaa 5€ tilauksille yli100 € ja 9 € halvemmille.
Kotiinkuljetus - 1-4 arkipäivää
Tämä on pikatoimitustapamme kotiovellesi, ja maksaa 7 € tilauksille yli 100 €, ja 12 € halvemmille.
Tekniset tiedot
Tekniset tiedot

| | |
| --- | --- |
| Näytön väri | Musta |
| Rannekkeen materiaali | Velcro |
| Rannekkeen väri | Sininen |
| Rannekkeen leveys | 18 |
| Rannekkeen pituus | 7-17 |
| Näytön väri | LCD/LED |
| Koneistotyyppi | Digitaalinen |
| Päivämäärän näyttö | Kyllä |
| Vedenkestävyys | 0 atm (ei mitään) |
| Syvyys | 12 |
| Halkaisija | 33 |
| Kotelon materiaali | Muovi |
| Lukko tyyppi | Soljen |
| Sukupuoli | Naiset, Lapset |
Koko-opas

Kuinka kellosi koko mitataan
The diameter
Yleinen mittaustapa on halkaisija, mutta koska kaikki kellot eivät ole ympyränmuotoisia, halkaisija tarkoittaa mittaa joka on mitattu vasemmalta oikealle. Ota huomioon, että jotkut valmistajat sisällyttävät nupin (josta kello käynnistetään) sekä muut nupit mitatessaan leveyttä, mutta me yritämme standardoida kaikki kellot niin, että nuppi ei ole mitassa mukana.



Kellorungon paksuus
Paksuus - tai kelloprofiilin korkeus - määritellään mittaamalla kello päältä pohjaan kuten alapuolen kuvassa on esitetty. Vertailun vuoksi, 1 euron kolikko on 2.33 millimetriä paksu.
One usually defines the watches with these numbers:
Ohut: 4-6 millimetriä
Normaali: 6-12 millimetriä
Suuri: 12-14 millimetriä
Ylisuuri: 14-18 millimetriä
Muita tuotteita joista saattaisit pitää