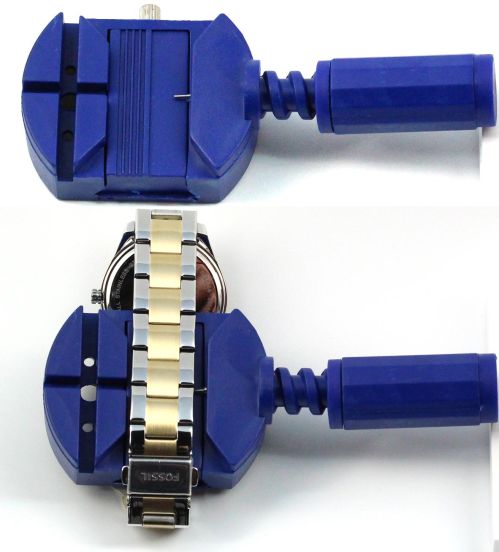 Työkalu rannekellon lyhentämiseen - ehdotettu hinta 19.9
Tallentaa 75%
Special Price
4,96 €
Norm
19,84 €
IHS
Varastossa
Lähetetään heti kaikkina arkipäivinä kun tilaus tehdään ennen kello 15.00
Työkalu rannekellon säätämiseen sinulle sopivaksi. Huomioi: Ei sovi kelloille joissa on yli 24 mm leveä remmi.
Tuote lisätty ostoskoriin!
Tuotekuvaus
Työkalu kellon rannekkeen lyhentämiseen
Tältä videolta voit nähdä miten työkalumme rannekkeen säätämiseen toimii
Kellosi rannekkeen sisäpuolella on pienillä nuolilla ilmoitettu ne linkit, jotka voit irroittaa. Huomioithan, että tapit tätyy työntää nuolen suuntaisesti ja tämän jälkeen ne täytyy laittaa samalla tavalla kuin ne olivat aikaisemmin. On hyvin tärkeää, että et aseta tappia vastakkaiseen suuntaan, jolloin tappi voi katketa.
Muista myös irroittaa linkit lukitusmekanismen molemmin puolin. Jos rannekke täytyy lyhentää kahdella linkillä, irroitat yhden linkin lukon molemmin puolin.
Työkalun käyttö on omalla vastuulla.
Toimitus
Peruslähetys - 5-10 arkipäivää
Tämä tapa maksaa 0€ tilauksille yli100 €, and 7 € halvemmille tilauksille.
Pikalähetys seurantatunnuksella - 1-4 arkipäivää
Tämä on pikalähetystoiminto ja maksaa 5€ tilauksille yli100 € ja 9 € halvemmille.
Kotiinkuljetus - 1-4 arkipäivää
Tämä on pikatoimitustapamme kotiovellesi, ja maksaa 7 € tilauksille yli 100 €, ja 12 € halvemmille.
Tekniset tiedot
Tekniset tiedot

| | |
| --- | --- |
| Tuotenumero | watch-sizing-tool2 |
| EAN | 1008780000 |
| Merkit | IHS |
Koko-opas

Kuinka kellosi koko mitataan
The diameter
Yleinen mittaustapa on halkaisija, mutta koska kaikki kellot eivät ole ympyränmuotoisia, halkaisija tarkoittaa mittaa joka on mitattu vasemmalta oikealle. Ota huomioon, että jotkut valmistajat sisällyttävät nupin (josta kello käynnistetään) sekä muut nupit mitatessaan leveyttä, mutta me yritämme standardoida kaikki kellot niin, että nuppi ei ole mitassa mukana.



Kellorungon paksuus
Paksuus - tai kelloprofiilin korkeus - määritellään mittaamalla kello päältä pohjaan kuten alapuolen kuvassa on esitetty. Vertailun vuoksi, 1 euron kolikko on 2.33 millimetriä paksu.
One usually defines the watches with these numbers:
Ohut: 4-6 millimetriä
Normaali: 6-12 millimetriä
Suuri: 12-14 millimetriä
Ylisuuri: 14-18 millimetriä