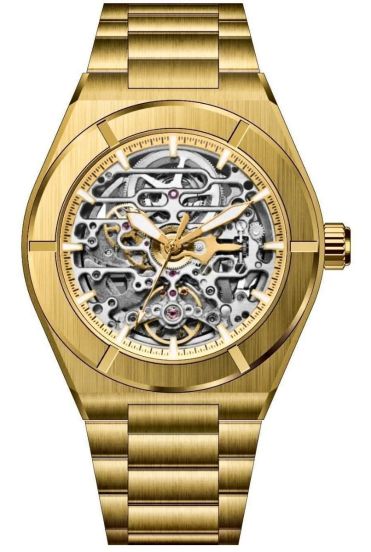 Spartos Molon Labe Skeleton Automatic Sapphire SPW8401
Tallentaa 58%
Special Price
216,26 €
Norm
518,82 €
Spartos
Varastossa
Lähetetään heti kaikkina arkipäivinä kun tilaus tehdään ennen kello 15.00
Olemme
kellojen virallinen jälleenmyyjä, joten saat varmasti alkuperäisen ja laatutestatun Spartos-tuotteen. Lähetämme myös hienon lahjarasian.
Tuote lisätty ostoskoriin!
Tuotekuvaus
Läpinäkyvä takaosa
Kellon takaosa on läpinäkyvä, jolloin näet suoraan kellokoneistoon.
Ranneke ruostumatonta terästä
Kestävä ja elegantti. Ranneke on tehty ruostumattomasta teräksestä joka antaa sille klassisen ilmeen.
Safiirilasi
Safiili on jopa 6 kertaa vahvempaa kuin teräs ja ohittaa kestävyydessään timatit Mohs:n mittarilla. Tämä tekee safiirilasista erittäin tehokkaan suojan kellollesi.
Automaattinen koneisto
Kellon automaattinen koneisto latautuu samalla kun liikut. Mikäli kello on pysähtynyt vähän käytön takia, alkaa se toimia jälleen liikkeessä.
Vedenpitävä 100 metriin asti (10 bar)
Kestävyys 10 baria tai 100 metriä, joten kelloa voi pitää uitaessa. Otathan huomioon että metrien määrä (100) ei kuitenkaan ole sama kuin sallittu sukellussyvyys. Tämä arvo viittaa vedenkestävyystesteissä käytettyyn ilmanpaineeseen (ISO 2281) ja on tarkka kun kello pidetään paikoillaan. Liikkeessä kelloon kohdistuva ilmanpaine kohoaa huomattavasti ja tämän vuoksi suositeltu sukellussyvyys pätee vain kellon ollessa paikallaan ollen liikkeessä alhaisempi.
Kondensaatio - tärkeää!
Radikaalit lämpötilanmuutokset (esimerkiksi saunan kuumuus tai kylmä pakkanen) saattavat aiheuttaa kondensoitumista (kellon lasin sisäpuolella näkyy tällöin pieniä vesipisaroita). Kello tulee käyttää pikaisesti kultasepänliikkeessä tai kellon huoltoliikkeessä jotta kosteus voidaan poistaa. Mikäli näin ei toimita, voi kello vakavasti vaurioitua. Kellot eivät ole kondensaationkestäviä vaikka olisivatkin vedenkestäviä. Kondesaatio ei välttämättä ole tuotannon virhe, joten se ei yleensä kuulu takuun piiriin.
Tuotekuvaus on muotoiltu erityisesti Kellot.fi:lle ja sitä ei saa kopioida tai muokata. Ehtojen rikkomisesta vaaditaan korvaus.
Huomautus: Tämän tuotteen mukana ei tule suomenkielistä käyttöohjetta, mutta englanninkielinen käyttöohje on ladattavissa verkosta tai se on pakkauksessa.
Toimitus
Peruslähetys - 5-10 arkipäivää
Tämä tapa maksaa 0€ tilauksille yli100 €, and 7 € halvemmille tilauksille.
Pikalähetys seurantatunnuksella - 1-4 arkipäivää
Tämä on pikalähetystoiminto ja maksaa 5€ tilauksille yli100 € ja 9 € halvemmille.
Kotiinkuljetus - 1-4 arkipäivää
Tämä on pikatoimitustapamme kotiovellesi, ja maksaa 7 € tilauksille yli 100 €, ja 12 € halvemmille.
Tekniset tiedot
Tekniset tiedot

| | |
| --- | --- |
| Halkaisija | 42 mm |
| Syvyys | 10 mm |
| Tuotenumero | SPW8401 |
| EAN | 5714064002577 |
| Merkit | Spartos |
| Sukupuoli | Miehet |
| Rannekkeen materiaali | Ruostumaton teräs |
| Rannekkeen väri | Kulta |
| Rannekkeen leveys | 24 mm |
| Rannekkeen pituus | 14-23 cm |
| Link type on strap | Pin Links |
| Lukko tyyppi | Perhonen |
| Kotelon materiaali | Ruostumaton teräs |
| Transparent Backcase | Joo |
| Näytön väri | Kulta |
| Lasi | Safiiri |
| Vedenkestävyys | 10 atm (amme/uinti) |
| Koneistotyyppi | Automaattinen |
Koko-opas

Kuinka kellosi koko mitataan
The diameter
Yleinen mittaustapa on halkaisija, mutta koska kaikki kellot eivät ole ympyränmuotoisia, halkaisija tarkoittaa mittaa joka on mitattu vasemmalta oikealle. Ota huomioon, että jotkut valmistajat sisällyttävät nupin (josta kello käynnistetään) sekä muut nupit mitatessaan leveyttä, mutta me yritämme standardoida kaikki kellot niin, että nuppi ei ole mitassa mukana.



Kellorungon paksuus
Paksuus - tai kelloprofiilin korkeus - määritellään mittaamalla kello päältä pohjaan kuten alapuolen kuvassa on esitetty. Vertailun vuoksi, 1 euron kolikko on 2.33 millimetriä paksu.
One usually defines the watches with these numbers:
Ohut: 4-6 millimetriä
Normaali: 6-12 millimetriä
Suuri: 12-14 millimetriä
Ylisuuri: 14-18 millimetriä