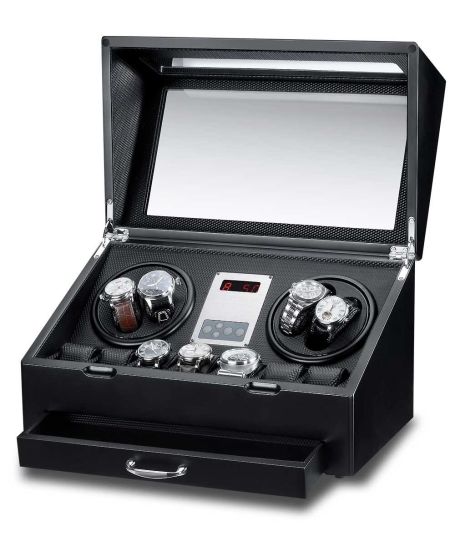 Rothenschild Panama 4 Watch Winder RS-2312-BK
Tallentaa 47%
Tarjoushinta
347,00 €
Normaali hinta
657,00 €
Rothenschild
Yksityiskohdat
Mitat
390 x 290 x 200 mm. 6,6 kg.
Virallinen jälleenmyyjä
Olemme brändin virallinen jälleenmyyjä. Tämä takaa asiakkaallesi turvan siitä, että kello on aito ja siihen on saatavilla virallinen huolto- sekä takuupalvelu.
Tuotekuvaus on muotoiltu erityisesti Kellot.fi:lle ja sitä ei saa kopioida tai muokata. Ehtojen rikkomisesta vaaditaan korvaus.
Toimitus
Peruslähetys - 5-10 arkipäivää
Tämä tapa maksaa 0€ tilauksille yli100 €, and 7 € halvemmille tilauksille.
Pikalähetys seurantatunnuksella - 1-4 arkipäivää
Tämä on pikalähetystoiminto ja maksaa 5€ tilauksille yli100 € ja 9 € halvemmille.
Kotiinkuljetus - 1-4 arkipäivää
Tämä on pikatoimitustapamme kotiovellesi, ja maksaa 7 € tilauksille yli 100 €, ja 12 € halvemmille.
Lisätietoja
Lisätietoja

| | |
| --- | --- |
| Päivämäärän näyttö | Ei |
Koko-opas

Kuinka kellosi koko mitataan
The diameter
Yleinen mittaustapa on halkaisija, mutta koska kaikki kellot eivät ole ympyränmuotoisia, halkaisija tarkoittaa mittaa joka on mitattu vasemmalta oikealle. Ota huomioon, että jotkut valmistajat sisällyttävät nupin (josta kello käynnistetään) sekä muut nupit mitatessaan leveyttä, mutta me yritämme standardoida kaikki kellot niin, että nuppi ei ole mitassa mukana.



Kellorungon paksuus
Paksuus - tai kelloprofiilin korkeus - määritellään mittaamalla kello päältä pohjaan kuten alapuolen kuvassa on esitetty. Vertailun vuoksi, 1 euron kolikko on 2.33 millimetriä paksu.
One usually defines the watches with these numbers:
Ohut: 4-6 millimetriä
Normaali: 6-12 millimetriä
Suuri: 12-14 millimetriä
Ylisuuri: 14-18 millimetriä
Muita tuotteita joista saattaisit pitää