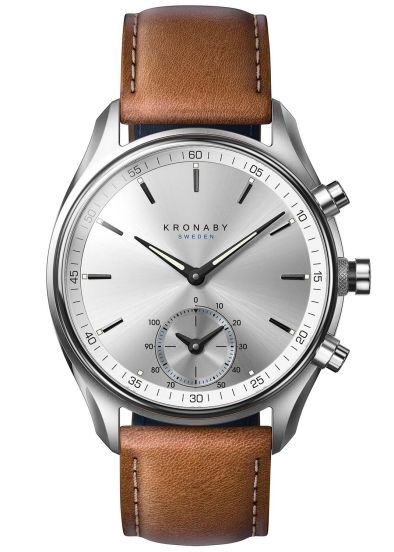 Tallentaa 19%
Tarjoushinta
397,00 €
Normaali hinta
492,00 €
Kronaby
Kellot.fi on
Kronaby -kellojen
virallinen jälleenmyyjä. Tilatessa kauttamme voimme varmistaa, että saat aidon ja laatutestatun Kronaby -kellon.
Yksityiskohdat
Yhdistetty
Kello voidaan yhdistää Android- tai iPhone -puhelimeesi, jolloin saat käyttöösi useita kellosi ominaisuuksia. Käyttöliittymä ja yhteyden muodostaminen on tehty mahdollisimman helpoksi, jolloin sen tulisi onnistua lähes jokaiselta. Tämä on ollut erittäin tärkeä tekijä Kronabylle älykelloa suunnitellessa; sen tulee olla käytännöllinen ja helppokäyttöinen. Tämä malli sisältää Kronaby BT002 -version, joka toimii Bluetooth 4.0 Low Energyn kanssa yhteen. Malli on yhteensopiva Android 5 (tai uudempi) sekä iOS 9 (tai uudemman) käyttöliittymän kanssa.
Säädettävät ilmoitukset
Kronaby -kellosi värähtelee, kun ihmiset soittavat ta kirjoittavat sinulle. Erottuakseen muista samantyylisistä kelloista, tässä mallissa voit päättää mitä ilmoituksia haluat saada. Esimerkiksi ota kelloosi vastaan vain puhelut henkilöiltä joita pidät tärkeänä (kuten puoliso, lapset).
Kävin täällä! -GeoTag
Painaessasi yhtä kellon napeista luot helposti ja automaattisesti GeoTag -merkinnän, joka ilmaisee kartalla missä olet ollut. Tämä on hyödyllinen toiminto esimerkiksi uudessa kaupungissa vieraillessa.
Seuraa minua kotiin
Erittäin hyödyllinen toiminto, joka mahdollistaa muiden seurata kotiinvievää reittiäsi. Mikäli esimerkiksi kävelet tänään ykin kotiin, voi partnerisi varmistaa että kaikki menee kuten pitää. Toiminto aktivoidaan painamalla yhtä kellon napeista.
Askelmittari
Kronabyyn on sisäänrakennettu teknologia, joka huomioi ottamasi askeleet. Voit asettaa esimerkiksi päivittäiset tavoitteet askelmäärällesi tai voit antaa älypuhelimesi analysoida dataa pidemmälle.
Aina ajoissa
Riippumatta siitä missä päin maailmaa olet, Kronabyn tulisi aina näyttää oikea aika ja päivittyä aikavyöhykkeiden mukaan.
Ei erillistä lataamista b>
Toisin kuin monissa älykelloissa, Kronabya ei tarvitse ladata. Kelloon yhteensopii CR3032 -patteri.
Muistutus aktiivisuudesta b>
Kello tunnistaa itse milloin et ole enää liikkeessä tai olet ollut pitkään paikoillasi, ja muistuttaa automaattisesti että on aika liikkua.
Hylkää puhelu
Puhelun älypuhelimeesi voi hylätä nappia painamalla.
Hiljainen hälytys
Kelloon on sisäänrakennettu hiljainen hälytys, joka vain värisee ilman ääntä.
Toisijainen aika
Kelloon voi asettaa toissijaisen ajan, joka on erittäin kätevä esimerkiksi mikäli liiketoimintaa tai perhesuhteita on toisella aikavyöhykkeellä.
Kameran etäohjaus b>
Älypuhelimen kellon kameraa voi kontrolloida etänä painamalla kellon erästä nappia.
Musiikin hallinta
Bluetooth -yhteyden avulla voi hallita älylaitteen musiikkisoitinta tämän Kronaby -kellon avulla.
IFTTT -yhteensopiva
IFTTT on erittäin viisas palvelu, joka yhdistää sovelluksia ja muita teknisiä laitteita toisiinsa. Käyttäen sääntöjä "Jos Tämä Niin Tuo" -periaatteesta voit käynnistää eri laitteiden ja sovellusten välillä toimivia toimintoja.
Super Luminova -päällyste
Kellon osoittimet on päällystetty Super Luminova -päällysteellä, joka saa ne näkymään jopa kymmenkertaisena verraten normaaliin pigmenttiin. Aine ei ole radioaktiivinen.
Virallinen jälleenmyyjä
Olemme brändin virallinen jälleenmyyjä. Tämä takaa asiakkaallesi turvan siitä, että kello on aito ja siihen on saatavilla virallinen huolto- sekä takuupalvelu.
Tuotekuvaus on muotoiltu erityisesti Kellot.fi:lle ja sitä ei saa kopioida tai muokata. Ehtojen rikkomisesta vaaditaan korvaus.
Toimitus
Peruslähetys - 5-10 arkipäivää
Tämä tapa maksaa 0€ tilauksille yli100 €, and 7 € halvemmille tilauksille.
Pikalähetys seurantatunnuksella - 1-4 arkipäivää
Tämä on pikalähetystoiminto ja maksaa 5€ tilauksille yli100 € ja 9 € halvemmille.
Kotiinkuljetus - 1-4 arkipäivää
Tämä on pikatoimitustapamme kotiovellesi, ja maksaa 7 € tilauksille yli 100 €, ja 12 € halvemmille.
Tekniset tiedot
Tekniset tiedot

| | |
| --- | --- |
| Näytön väri | Hopea |
| Rannekkeen materiaali | Nahka |
| Rannekkeen väri | Ruskea |
| Rannekkeen leveys | 22 |
| Rannekkeen pituus | 14-22 |
| Näytön väri | Hopea, Valkoinen |
| Lasi | Safiiri |
| Päivämäärän näyttö | Kyllä |
| Vedenkestävyys | 10 atm (amme/uinti) |
| Syvyys | 14 |
| Halkaisija | 43 |
| Kotelon materiaali | Ruostumaton teräs |
| Lukko tyyppi | Soljen |
| Sukupuoli | Miehet |
Koko-opas

Kuinka kellosi koko mitataan
The diameter
Yleinen mittaustapa on halkaisija, mutta koska kaikki kellot eivät ole ympyränmuotoisia, halkaisija tarkoittaa mittaa joka on mitattu vasemmalta oikealle. Ota huomioon, että jotkut valmistajat sisällyttävät nupin (josta kello käynnistetään) sekä muut nupit mitatessaan leveyttä, mutta me yritämme standardoida kaikki kellot niin, että nuppi ei ole mitassa mukana.



Kellorungon paksuus
Paksuus - tai kelloprofiilin korkeus - määritellään mittaamalla kello päältä pohjaan kuten alapuolen kuvassa on esitetty. Vertailun vuoksi, 1 euron kolikko on 2.33 millimetriä paksu.
One usually defines the watches with these numbers:
Ohut: 4-6 millimetriä
Normaali: 6-12 millimetriä
Suuri: 12-14 millimetriä
Ylisuuri: 14-18 millimetriä
Muita tuotteita joista saattaisit pitää