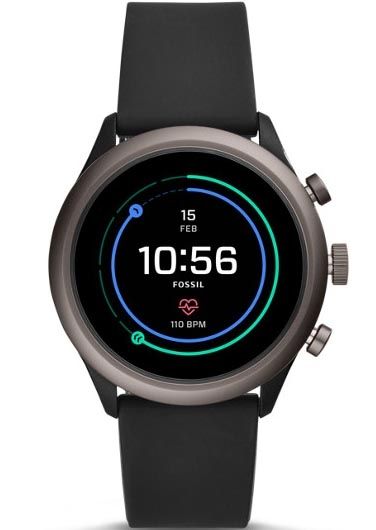 Fossil Sport Smartwatch Smokey Black FTW4019
Tallentaa 12%
Tarjoushinta
252,00 €
Normaali hinta
287,00 €
Fossil
Olemme
Fossil -kellojen
virallinen jälleenmyyjä. Tämä tarkoittaa myymiemme kellojen olevan aitoja ja niiden olevan laatutestattuja.
Yksityiskohdat
Sykemittari
Kellon optinen anturi voi mitata sykettäsi ja tuottaa sinulle informaatiota, kuinka sykkeesi on muuttunut päivän aikana.
Aktiivisuusmittari
Mittaa päiväsi aktiivisuustaso. Kuinka monta askelta otat? Kuinka monta kilometriä kävelet? Kuinka monta kaloria olet polttanut? Kellosi kertoo sinulle kaiken tämän, ja vieläkin enemmän.
GPS
Kellossa on sisäänrakennettu GPS, jonka avulla tiedät missä lenkilläsi menet ja voit jättää puhelimen kotiin.
NFC-siru
Kellossa on sisäänrakennettu NFC-siru, jonka avulla voit maksaa ostoksesi Google Payn kautta.
Google Assistentti
Käytä kelloa vaivattomasti Google Assistentin avulla, joka toimii äänikomennolla.
Kosketusnäyttö
Some-viestit, sähköpostit, saapuneet puhelut, tekstiviestit – kaikki näkyvillä suoraan ranteestasi.
Langaton synkronointi
Tietojen synkronointi puhelimen ja kellon välillä tapahtuu automaattisesti ja ilman kaapeleita.
Langaton lataus
Nämä älykellot on mahdollista ladata ilman piuhoja langattoman latausalusta päällä .
Hallitse musiikkiasi
Hallitse älypuhelimesi musiikkia suoraan kellon kosketusnäytöstä riippumatta siitä, käytätkö esimerkiksi Spotifyä, Pandoraa, Soundcloudia tai Google Playia, et.c. (koskee vain Androidia). Voit myös toistaa tallennettuja soittolistojasi ollessasi puhelimesi lähettyvillä.
Automaattinen ajan ja päivän päivitys
Ei enää väärässä ajassa olemista, kun siirryt aikavyöhykkeeltä toiselle matkustaessasi. Kellosi päivittyy automaattisesti maantieteellisen sijaintisi mukaan.
Sinä päätät kellotaulun tyylistä
Pystyt suunnitella itse, minkä näköisen kellotaulun haluat. Voit valita useista erilaisesti aiheista, väreistä ja toiminnoista juuri omien toiveittesi mukaisen kellon, joka palvelee sinun tarpeitasi ja tyyliäsi.
Hälytystoiminto
Laita kello muistuttamaan sinua tärkeistä ajoista ja tapahtumista ja päätä itse haluatko siitä äänimerkin vai tärinän. Kirjaa vain tapahtumat kalenteriisi ja aseta hälytys päälle.
Pieni taskulamppu
Kellon valotoiminto toimii pienenä taskulamppuna, joka on aina mukanasi.
Voit käyttää kaikkia haluamiasi sovelluksia myös kellossa
Lataa sellaiset sovellukset kelloon, joita tarvitset!
Ajanotto
Käytä kellon ajanottoa treenatessasi tai muuhun arjen askareisiin.
Luo omat arjen tavoitteesi
Haluatko tehdä muutoksia arkipäivääsi ja oppia uusia, terveellisempiä tapoja? Kellosi voi toimia personal trainerinasi, joka muistuttaa sinua juomaan lasin vettä ja ottamaan vielä muutaman askeleen, ennen kuin levähdät.
Sääennustus
Säätiedotus nopeasti ja helposti suoraan kellosi näytölle.
Nopea latautuminen
Nopean latautumisen ansiosta et tarvitse kuin yhden tunnin ja kellosi akku on jo 80% latautunut. Täydellistä, kun on kiire ja menoja!
Tekniset tiedot
Wear OS by Google ™ & Qualcomm® Snapdragon Wear ™ 3100: n käyttöjärjestelmä. Yhteensopiva Android 4.4 + ja iOS 9.3+, Bluetooth® Smart Enabled / 4.1 Low, Wi-Fi 802.11 b / g / n, akku: 24–48 tuntia, käytöstä riippuen.
Virallinen jälleenmyyjä
Olemme brändin virallinen jälleenmyyjä. Tämä takaa asiakkaallesi turvan siitä, että kello on aito ja siihen on saatavilla virallinen huolto- sekä takuupalvelu.
Tuotekuvaus on muotoiltu erityisesti Kellot.fi:lle ja sitä ei saa kopioida tai muokata. Ehtojen rikkomisesta vaaditaan korvaus.
Toimitus
Peruslähetys - 5-10 arkipäivää
Tämä tapa maksaa 0€ tilauksille yli100 €, and 7 € halvemmille tilauksille.
Pikalähetys seurantatunnuksella - 1-4 arkipäivää
Tämä on pikalähetystoiminto ja maksaa 5€ tilauksille yli100 € ja 9 € halvemmille.
Kotiinkuljetus - 1-4 arkipäivää
Tämä on pikatoimitustapamme kotiovellesi, ja maksaa 7 € tilauksille yli 100 €, ja 12 € halvemmille.
Tekniset tiedot
Tekniset tiedot

| | |
| --- | --- |
| Näytön väri | Musta, Tummanharmaa |
| Rannekkeen materiaali | Silikoni |
| Rannekkeen väri | Musta |
| Rannekkeen leveys | 22 |
| Näytön väri | LCD/LED |
| Koneistotyyppi | Digitaalinen |
| Päivämäärän näyttö | Kyllä |
| Vedenkestävyys | 5 atm (roisketiivis / sade) |
| Syvyys | 12 |
| Halkaisija | 43 |
| Kotelon materiaali | Alumiini |
| Lukko tyyppi | Soljen |
| Sukupuoli | Miehet |
| Koko | One-SIze |
Koko-opas

Kuinka kellosi koko mitataan
The diameter
Yleinen mittaustapa on halkaisija, mutta koska kaikki kellot eivät ole ympyränmuotoisia, halkaisija tarkoittaa mittaa joka on mitattu vasemmalta oikealle. Ota huomioon, että jotkut valmistajat sisällyttävät nupin (josta kello käynnistetään) sekä muut nupit mitatessaan leveyttä, mutta me yritämme standardoida kaikki kellot niin, että nuppi ei ole mitassa mukana.



Kellorungon paksuus
Paksuus - tai kelloprofiilin korkeus - määritellään mittaamalla kello päältä pohjaan kuten alapuolen kuvassa on esitetty. Vertailun vuoksi, 1 euron kolikko on 2.33 millimetriä paksu.
One usually defines the watches with these numbers:
Ohut: 4-6 millimetriä
Normaali: 6-12 millimetriä
Suuri: 12-14 millimetriä
Ylisuuri: 14-18 millimetriä
Muita tuotteita joista saattaisit pitää