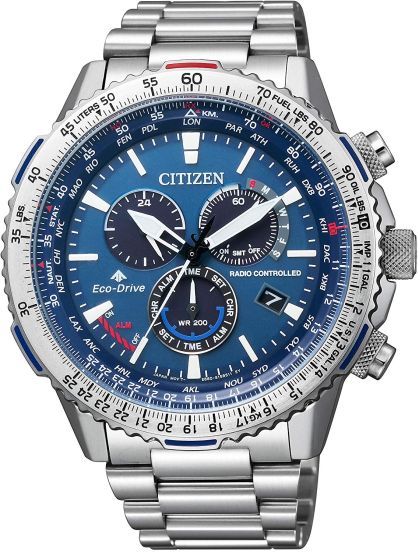 Citizen Eco-Drive Promaster CB5000-50L
Tallentaa 21%
Tarjoushinta
544,00 €
Normaali hinta
684,00 €
Citizen
Varastossa
1-5 arkipäivää
Tämän kellon on suunnittellut Citizen, joka on yksi maailman suurimmista ja tunnetuimmista kellojen tuottajista. Tämä malli on osa Citizen:in miesten kellojen kokoelmaa. Olemme Citizen kellojen virallinen jälleenmyyjä Tanskassa ja saat varmasti aidon ja laatutestatun Citizen kellon, kun asoit kanssamme.
Yksityiskohdat
Virallinen jälleenmyyjä
Olemme brändin virallinen jälleenmyyjä. Tämä takaa asiakkaallesi turvan siitä, että kello on aito ja siihen on saatavilla virallinen huolto- sekä takuupalvelu.
Aurinkokenno/b>
Aurinkokenno toimii voimanlähteenä tälle kellolle.
Päivämäärän näyttö
Päivämäärä näkyy näytöllä erikseen.
24 -tunnin aikanäyttö
Aika ilmoitetaan 24h-muodossa erillisessä pienemmässä näytössä kellon keskiosassa.
Kronografi
Käytetään ajanottoon. Usein löytyy kellotaulun pienimmistä näytöistä.
Valoa heijastava pinta
Valoa heijastava päällyslakka tarjoaa pitkäikäisen valoa reflektoivan ominaisuuden pimeässä tilassa. Efektin aikaansaamiseksi vaaditaan vain pieni määrä valolle altistumista. Yleensä nämä ominaisuudet löytyvät kellojen viisareista.
Patterin varauksen ilmaisin
Nykyisen patterin varaustason ilmaisin.
Radiosignaalin vastaanotin
Olitpa sitten Euroopassa, Pohjois- tai Keski-Amerikassa, Kiinassa tai Japanissa, tämä kello vastaanottaa radiosignaaleja ja asettaa oikean ajan niiden perusteella. Useimmissa maissa kello myös vaihtaa automaattisesti talvi- ja kesäajan välillä.
Tuotekuvaus on muotoiltu erityisesti Kellot.fi:lle ja sitä ei saa kopioida tai muokata. Ehtojen rikkomisesta vaaditaan korvaus.
Toimitus
Peruslähetys - 5-10 arkipäivää
Tämä tapa maksaa 0€ tilauksille yli100 €, and 7 € halvemmille tilauksille.
Pikalähetys seurantatunnuksella - 1-4 arkipäivää
Tämä on pikalähetystoiminto ja maksaa 5€ tilauksille yli100 € ja 9 € halvemmille.
Kotiinkuljetus - 1-4 arkipäivää
Tämä on pikatoimitustapamme kotiovellesi, ja maksaa 7 € tilauksille yli 100 €, ja 12 € halvemmille.
Lisätietoja
Lisätietoja

| | |
| --- | --- |
| Näytön väri | Hopea |
| Rannekkeen materiaali | Ruostumaton teräs |
| Rannekkeen väri | Hopea |
| Rannekkeen pituus | 14-22 |
| Näytön väri | Sininen |
| Lasi | Safiiri |
| Koneistotyyppi | Kvartsi |
| Päivämäärän näyttö | Kyllä |
| Vedenkestävyys | 20 atm (snorklaus) |
| Syvyys | 14 |
| Halkaisija | 46 |
| Kotelon materiaali | Ruostumaton teräs |
| Lukko tyyppi | Käyttöönotto lukko |
| Sukupuoli | Miehet |
Koko-opas

Kuinka kellosi koko mitataan
The diameter
Yleinen mittaustapa on halkaisija, mutta koska kaikki kellot eivät ole ympyränmuotoisia, halkaisija tarkoittaa mittaa joka on mitattu vasemmalta oikealle. Ota huomioon, että jotkut valmistajat sisällyttävät nupin (josta kello käynnistetään) sekä muut nupit mitatessaan leveyttä, mutta me yritämme standardoida kaikki kellot niin, että nuppi ei ole mitassa mukana.



Kellorungon paksuus
Paksuus - tai kelloprofiilin korkeus - määritellään mittaamalla kello päältä pohjaan kuten alapuolen kuvassa on esitetty. Vertailun vuoksi, 1 euron kolikko on 2.33 millimetriä paksu.
One usually defines the watches with these numbers:
Ohut: 4-6 millimetriä
Normaali: 6-12 millimetriä
Suuri: 12-14 millimetriä
Ylisuuri: 14-18 millimetriä
Muita tuotteita joista saattaisit pitää