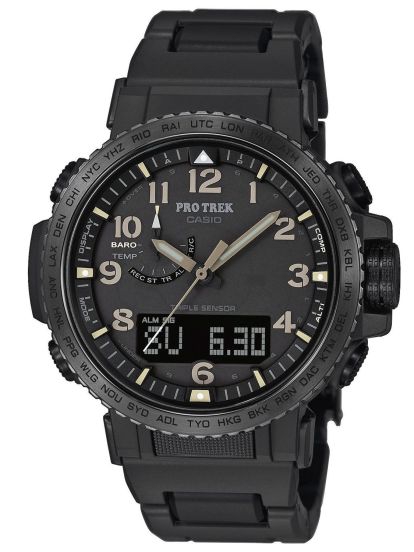 Casio Pro Trek PRW-50FC-1ER
Tallentaa 57%
Tarjoushinta
332,00 €
Normaali hinta
767,00 €
Casio
Varastossa
Lähetetään heti kaikkina arkipäivinä kun tilaus tehdään ennen kello 15.00
Tämän kellon on tuottanut
Casio
ja se kuuluu heidän
Casio ProTrek
-adventtikellosarjaansa. Kellot.fi on nimitetty viralliseksi
Casio -kellojen
jälleenmyyjäksi. Tämä takaa 100% aidon Casio-laatuisen takuu- ja huoltopalvelun.
Yksityiskohdat
Virallinen jälleenmyyjä
Olemme brändin virallinen jälleenmyyjä. Tämä takaa asiakkaallesi turvan siitä, että kello on aito ja siihen on saatavilla virallinen huolto- sekä takuupalvelu.
Kestää kylmiä lämpötiloja
Tämä kello toimii jopa -10 ° C pakkasessa.
Aurinkokenno/b>
Aurinkokenno toimii voimanlähteenä tälle kellolle.
Radiosignaalin vastaanotin
Olitpa sitten Euroopassa, Pohjois- tai Keski-Amerikassa, Kiinassa tai Japanissa, tämä kello vastaanottaa radiosignaaleja ja asettaa oikean ajan niiden perusteella. Useimmissa maissa kello myös vaihtaa automaattisesti talvi- ja kesäajan välillä.
Neo-näyttö
Valoa heijastava päällyslakka tarjoaa pitkäikäisen valoa reflektoivan ominaisuuden pimeässä tilassa. Efektin aikaansaamiseksi vaaditaan vain pieni määrä valolle altistumista.
Barometri (260/1100)
Erityinen sensori mittaa ilmanpainetta välillä 260/1100hPa ja näyttää tämän symbolin näytöllä, jonka avulla tulisi olla mahdollista tunnistaa ja ennakoida kelin muutoksia.
Digitaalinen kompassi
Sisäänrakennettu sensori paikantaa Pohjoisnavan magneettikentät.
Korkeusmittari (10,000 metriä)
Painesensori huomaa vaihtelut ilmanpaineessa ja muuntaa nämä korkeus-arvioksi (jopa 10,000 metriin asti).
Korkeuserojen mittaus
Toiminnolla voidaan mitata noustujen metrien määrä esimerkiksi kiipeillessä tai pyöräillessä.
Korkeusmittarin muisti
Muistiin voi tallentaa jopa 40 mittauksen tulokset päivämäärineen. Tallentaa voi myös mittauksen aikana olleen alimman sekä korkeimman tuloksen.
Ajanotto-ominaisuus (1/100 sek. - 24 tuntia.)
Alustava aika, kierrosaika sekä lopullinen aika voidaan mitata sadasosan tarkkuudella. Aikaa voidaan mitata 24 tuntiin asti.
Ajastin – 1/1 min – automaattinen 1 tunnin välein toistuva hälytys
Ajastus voidaan asettaa akustisesti toistumaan haluamansa tuntimäärän välein jopa 1 tunti etukäteen. Tämä toiminto on erittäin hyödyllinen etenkin, mikäli päivittäin tulee ottaa tietty lääke tai tehdä tietyt asiat samana kellonaikana. Myöskin urheilussa tämä toimii intervalli-harjoittelussa, jolloin käyttöön voi valita tuntien laskun suuremmasta alaspäin.
5 päivittäistä hälytystä
Voit asettaa jopa viisi eri aikaan soivaa hälytystä. Hälytykset asetetaan käyttäen akustista signaalia, joka muistuttaa sinua annettuna kellonaikana joko haluamaasi aikaa tai tasatunnein.
Kierrelukittu nuppi
Varmistaa että nupista tapahtuvat toiminnot eivät vaihdu vahingossa.
Automaattinen tasapainon säätö
Kello tarkistaa tunnin välein käden epätasapainon ja korjaa sen ottaen huomioon mahdolliset syyt, kuten vahvat magneettiset häiriöt tai kolaukset.
Älykäs vetonuppi
Uudenlainen teknologia antaa mahdollisuudet nupille tuoda esiin useampia eri toimintoja.
Näppäinäänet päälle/pois
Näppäinäänet voidaan ottaa käyttöön tai poistaa käytöstä toimintojen välillä. Tämä ei vaikuta hälytyksiin, ajastuksiin tai muistutuksiin.
Automaattinen kalenteri
Vaihtaa automaattisesti kuukautta eri kuukauden pituuksien mukaan. Ottaa huomioon myös karkausvuoden.
12/24 tunnin kello
Aika voidaan asettaa joko 12 tunnin jaksolle (AM ja PM) tai perinteiseen 24 tunnin malliin.
Turvamekanismi
Tästä kellosta löytyy erityinen turvamekanismi, joka estää sen rannekkeen lukon aukeamisen vahingossa.
Patterin varauksen ilmaisin
Nykyisen patterin varaustason ilmaisin.
Tuotekuvaus on muotoiltu erityisesti Kellot.fi:lle ja sitä ei saa kopioida tai muokata. Ehtojen rikkomisesta vaaditaan korvaus.
Toimitus
Peruslähetys - 5-10 arkipäivää
Tämä tapa maksaa 0€ tilauksille yli100 €, and 7 € halvemmille tilauksille.
Pikalähetys seurantatunnuksella - 1-4 arkipäivää
Tämä on pikalähetystoiminto ja maksaa 5€ tilauksille yli100 € ja 9 € halvemmille.
Kotiinkuljetus - 1-4 arkipäivää
Tämä on pikatoimitustapamme kotiovellesi, ja maksaa 7 € tilauksille yli 100 €, ja 12 € halvemmille.
Tekniset tiedot
Tekniset tiedot

| | |
| --- | --- |
| Näytön väri | Musta |
| Rannekkeen materiaali | Hartsilinkit |
| Link type on strap | Pin Links |
| Rannekkeen väri | Musta |
| Rannekkeen leveys | 23 |
| Rannekkeen pituus | 14-24 |
| Näytön väri | Musta |
| Lasi | Safiiri |
| Koneistotyyppi | Analogi-digitaalisen yhdistelmä |
| Päivämäärän näyttö | Kyllä |
| Vedenkestävyys | 10 atm (amme/uinti) |
| Syvyys | 16 |
| Halkaisija | 51 |
| Kotelon materiaali | Ruostumaton teräs |
| Lukko tyyppi | Käyttöönotto lukko |
| Sukupuoli | Miehet |
| Koko | One-SIze |
Koko-opas

Kuinka kellosi koko mitataan
The diameter
Yleinen mittaustapa on halkaisija, mutta koska kaikki kellot eivät ole ympyränmuotoisia, halkaisija tarkoittaa mittaa joka on mitattu vasemmalta oikealle. Ota huomioon, että jotkut valmistajat sisällyttävät nupin (josta kello käynnistetään) sekä muut nupit mitatessaan leveyttä, mutta me yritämme standardoida kaikki kellot niin, että nuppi ei ole mitassa mukana.



Kellorungon paksuus
Paksuus - tai kelloprofiilin korkeus - määritellään mittaamalla kello päältä pohjaan kuten alapuolen kuvassa on esitetty. Vertailun vuoksi, 1 euron kolikko on 2.33 millimetriä paksu.
One usually defines the watches with these numbers:
Ohut: 4-6 millimetriä
Normaali: 6-12 millimetriä
Suuri: 12-14 millimetriä
Ylisuuri: 14-18 millimetriä
Muita tuotteita joista saattaisit pitää