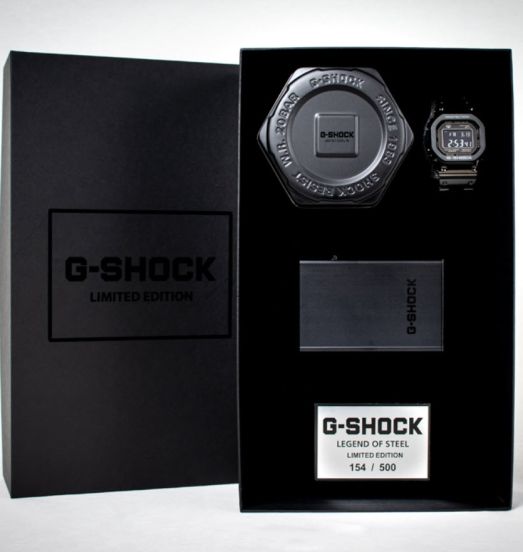 Casio G-Shock Legend of Steel Limited Edition (500 pieces worldwide) GMW-B5000GDLTD-1ER
Tallentaa 34%
Tarjoushinta
365,00 €
Normaali hinta
549,00 €
Casio
Tämän kellon on tuottanut japanilainen Casio ja se kuuluu heidän erittäin huolella valmistettuihin
Casio G-Shock
-kokoelman sporttikellomalleihin. Kellot.fi on nimitetty viralliseksi
Casio -kellojen
jälleenmyyjäksi. Tämä takaa 100% aidon Casio-laatuisen takuu- ja huoltopalvelun.
Yksityiskohdat
Virallinen jälleenmyyjä
Olemme brändin virallinen jälleenmyyjä. Tämä takaa asiakkaallesi turvan siitä, että kello on aito ja siihen on saatavilla virallinen huolto- sekä takuupalvelu.
Bluetooth 4.0-yhteys
Bluetoothin avulla voi kellon yhdistää älypuhelimeen langattomasti. Virransäästöteknologian avulla saadaan käyttöön suuri määrä ominaisuuksia.
Yhteensopiva malien iPhone / Android -puhelimet
Casion "G-SHOCK +" -sovellus tulee olla ladattuna puhelimesi omasta sovelluskaupasta jotta yhdistäminen näihin malleihin onnistuu.
Musiikin hallinnointi
Voit käyttää kellon näppäimiä hallinnoimaan puhelimesi musiikkisoitinta.
Radiosignaalin vastaanotin
Olitpa sitten Euroopassa, Pohjois- tai Keski-Amerikassa, Kiinassa tai Japanissa, tämä kello vastaanottaa radiosignaaleja ja asettaa oikean ajan niiden perusteella. Useimmissa maissa kello myös vaihtaa automaattisesti talvi- ja kesäajan välillä.
Aurinkokenno/b>
Aurinkokenno toimii voimanlähteenä tälle kellolle.
Erikoisvalaistu näyttö
Napin painalluksella kellon näyttö valaistuu upean värikseksi.
Iskunkestävä
Niinkutsuttu "iskunkestävyysrakenne" suojelee kelloa iskuilta ja tärähdyksiltä.
Maailmankello
Suurimpien kaupunkien kellot on esiasennettu kelloon, jolloin voit valita nykyisen kaupunkisi (tai lähimmän suurkaupungin) ja kello asettaa itsensä automaattisesti oikeaan aikaan.
Ajanotto-ominaisuus (1/100 sek. - 24 tuntia.)
Alustava aika, kierrosaika sekä lopullinen aika voidaan mitata sadasosan tarkkuudella. Aikaa voidaan mitata 24 tuntiin asti.
Ajastin – 1/1 min – automaattinen 1 tunnin välein toistuva hälytys
Ajastus voidaan asettaa akustisesti toistumaan haluamansa tuntimäärän välein jopa 1 tunti etukäteen. Tämä toiminto on erittäin hyödyllinen etenkin, mikäli päivittäin tulee ottaa tietty lääke tai tehdä tietyt asiat samana kellonaikana. Myöskin urheilussa tämä toimii intervalli-harjoittelussa, jolloin käyttöön voi valita tuntien laskun suuremmasta alaspäin.
5 päivittäistä hälytystä
Voit asettaa jopa viisi eri aikaan soivaa hälytystä. Hälytykset asetetaan käyttäen akustista signaalia, joka muistuttaa sinua annettuna kellonaikana joko haluamaasi aikaa tai tasatunnein.
Torkku-toiminto
Hälytyksen voi torkuttaa, jolloin se hiljenee hetkeksi ja alkaa uudelleen myöhemmin.
Löydä puhelimesi -toiminto
Kello voi aktivoida älypuhelimesi niin, että se päästää helposti paikallistettavia ääniä.
Automaattinen kalenteri
Vaihtaa automaattisesti kuukautta eri kuukauden pituuksien mukaan. Ottaa huomioon myös karkausvuoden.
Patterin varauksen ilmaisin
Nykyisen patterin varaustason ilmaisin.
Näppäinäänet päälle/pois
Näppäinäänet voidaan ottaa käyttöön tai poistaa käytöstä toimintojen välillä. Tämä ei vaikuta hälytyksiin, ajastuksiin tai muistutuksiin.
Automaattinen kalenteri
Vaihtaa automaattisesti kuukautta eri kuukauden pituuksien mukaan. Ottaa huomioon myös karkausvuoden.
12/24 tunnin kello
Aika voidaan asettaa joko 12 tunnin jaksolle (AM ja PM) tai perinteiseen 24 tunnin malliin.
Tuotekuvaus on muotoiltu erityisesti Kellot.fi:lle ja sitä ei saa kopioida tai muokata. Ehtojen rikkomisesta vaaditaan korvaus.
Toimitus
Peruslähetys - 5-10 arkipäivää
Tämä tapa maksaa 0€ tilauksille yli100 €, and 7 € halvemmille tilauksille.
Pikalähetys seurantatunnuksella - 1-4 arkipäivää
Tämä on pikalähetystoiminto ja maksaa 5€ tilauksille yli100 € ja 9 € halvemmille.
Kotiinkuljetus - 1-4 arkipäivää
Tämä on pikatoimitustapamme kotiovellesi, ja maksaa 7 € tilauksille yli 100 €, ja 12 € halvemmille.
Tekniset tiedot
Tekniset tiedot

| | |
| --- | --- |
| Näytön väri | Musta |
| Rannekkeen materiaali | Ruostumaton teräs |
| Link type on strap | Pin Links |
| Rannekkeen väri | Musta |
| Rannekkeen pituus | 14-23 |
| Näytön väri | LCD/LED, Musta |
| Lasi | Mineraalilasi |
| Koneistotyyppi | Digitaalinen |
| Päivämäärän näyttö | Kyllä |
| Vedenkestävyys | 20 atm (snorklaus) |
| Syvyys | 13 |
| Halkaisija | 43 |
| Kotelon materiaali | Ruostumaton teräs |
| Lukko tyyppi | Käyttöönotto lukko |
| Sukupuoli | Miehet |
| Koko | One-SIze |
Koko-opas

Kuinka kellosi koko mitataan
The diameter
Yleinen mittaustapa on halkaisija, mutta koska kaikki kellot eivät ole ympyränmuotoisia, halkaisija tarkoittaa mittaa joka on mitattu vasemmalta oikealle. Ota huomioon, että jotkut valmistajat sisällyttävät nupin (josta kello käynnistetään) sekä muut nupit mitatessaan leveyttä, mutta me yritämme standardoida kaikki kellot niin, että nuppi ei ole mitassa mukana.



Kellorungon paksuus
Paksuus - tai kelloprofiilin korkeus - määritellään mittaamalla kello päältä pohjaan kuten alapuolen kuvassa on esitetty. Vertailun vuoksi, 1 euron kolikko on 2.33 millimetriä paksu.
One usually defines the watches with these numbers:
Ohut: 4-6 millimetriä
Normaali: 6-12 millimetriä
Suuri: 12-14 millimetriä
Ylisuuri: 14-18 millimetriä
Muita tuotteita joista saattaisit pitää