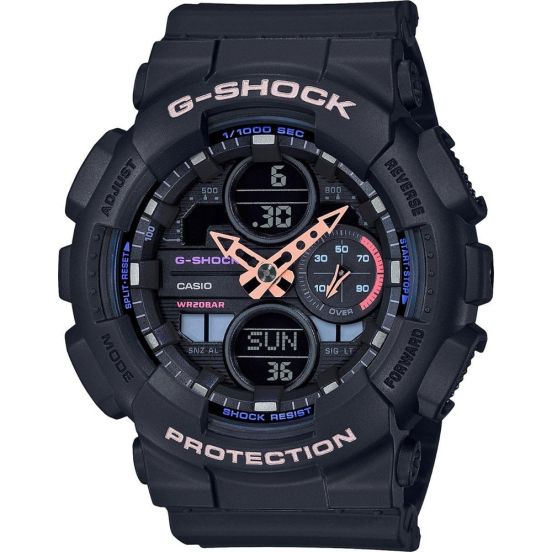 Casio G-Shock GMA-S140-1AER
Varastossa
Lähetetään 24 tunnin sisällä arkipäivisin
Tämän kellon on tuottanut japanilainen Casio ja se kuuluu heidän erittäin huolella valmistettuihin
Casio G-Shock
-kokoelman sporttikellomalleihin. Kellot.fi on nimitetty viralliseksi
Casio -kellojen
jälleenmyyjäksi. Tämä takaa 100% aidon Casio-laatuisen takuu- ja huoltopalvelun.
Yksityiskohdat
Automaattinen LED-valaistus
Valodiodi (light-emitting diode/LED) valaisee kellon etuosan. Kellossa on myös "Auto Light Switch" -ominaisuus, joka valaisee kellotaulua kellon ollessa suunnattu kasvoihin päin.
Immuuni magneettikentille
Kellon kotelo on suunniteltu suojaamaan kelloa magneettikenttien vaikutuksilta.
Ajanotto-ominaisuus (1/1000 sek. - 100 tuntia)
Väli- ja lopullinen aika voidaan mitata jopa tuhannesosasekuntin tarkkuudella! Erillinen signaali kertoo, kun ajanotto aloitetaan ja lopetetaan. Aikaa voi mitata jopa 100 tuntiin asti.
Ajastin – 1/1 min – automaattinen jopa 24 tunnin välein toistuva hälytys
Ajastus voidaan asettaa akustisesti toistumaan haluamansa tuntimäärän välein jopa 24 tuntia etukäteen. Tämä toiminto on erittäin hyödyllinen etenkin, mikäli päivittäin tulee ottaa tietty lääke tai tehdä tietyt asiat samana kellonaikana. Myöskin urheilussa tämä toimii intervalli-harjoittelussa, jolloin käyttöön voi valita tuntien laskun suuremmasta alaspäin.
5 päivittäistä hälytystä
Voit asettaa jopa viisi eri aikaan soivaa hälytystä. Hälytykset asetetaan käyttäen akustista signaalia, joka muistuttaa sinua annettuna kellonaikana joko haluamaasi aikaa tai tasatunnein.
Torkku-toiminto
Hälytyksen voi torkuttaa, jolloin se hiljenee hetkeksi ja alkaa uudelleen myöhemmin.
12/24 tunnin kello
Aika voidaan asettaa joko 12 tunnin jaksolle (AM ja PM) tai perinteiseen 24 tunnin malliin.
Hartsihihna
Luonnollinen hartsi on ideaali materiaali hihnoihin, sillä se on erittäin kestävä ja joustava.
Mineraalikide
Erittäin kestävät mineraalikiteet suojelevat naarmuilta ja kolhuilta.
Vedenpitävä 200 metriin asti (20 bar)
Kestävyys 20 baria tai 200 metriä, joten kelloa voi pitää uitaessa. Otathan huomioon että metrien määrä (200) ei kuitenkaan ole sama kuin sallittu sukellussyvyys. Tämä arvo viittaa vedenkestävyystesteissä käytettyyn ilmanpaineeseen (ISO 2281) ja on tarkka kun kello pidetään paikoillaan. Liikkeessä kelloon kohdistuva ilmanpaine kohoaa huomattavasti ja tämän vuoksi suositeltu sukellussyvyys pätee vain kellon ollessa paikallaan ollen liikkeessä alhaisempi.
Kondensaatio - tärkeää!
Radikaalit lämpötilanmuutokset (esimerkiksi saunan kuumuus tai kylmä pakkanen) saattavat aiheuttaa kondensoitumista (kellon lasin sisäpuolella näkyy tällöin pieniä vesipisaroita). Kello tulee käyttää pikaisesti kultasepänliikkeessä tai kellon huoltoliikkeessä jotta kosteus voidaan poistaa. Mikäli näin ei toimita, voi kello vakavasti vaurioitua. Kellot eivät ole kondensaationkestäviä vaikka olisivatkin vedenkestäviä. Kondesaatio ei välttämättä ole tuotannon virhe, joten se ei yleensä kuulu takuun piiriin.
Hartsikotelo
Tuotekuvaus on muotoiltu erityisesti Kellot.fi:lle ja sitä ei saa kopioida tai muokata. Ehtojen rikkomisesta vaaditaan korvaus.
Toimitus
Peruslähetys - 5-10 arkipäivää
Tämä tapa maksaa 0€ tilauksille yli100 €, and 7 € halvemmille tilauksille.
Pikalähetys seurantatunnuksella - 1-4 arkipäivää
Tämä on pikalähetystoiminto ja maksaa 5€ tilauksille yli100 € ja 9 € halvemmille.
Kotiinkuljetus - 1-4 arkipäivää
Tämä on pikatoimitustapamme kotiovellesi, ja maksaa 7 € tilauksille yli 100 €, ja 12 € halvemmille.
Tekniset tiedot
Tekniset tiedot

| | |
| --- | --- |
| Tuotenumero | GMA-S140-1AER |
| Näytön väri | Musta |
| Rannekkeen materiaali | Hartsi |
| Rannekkeen väri | Musta |
| Rannekkeen pituus | 14-22 |
| Näytön väri | Musta |
| Lasi | Mineraalilasi |
| Koneistotyyppi | Analogi-digitaalisen yhdistelmä |
| Päivämäärän näyttö | Kyllä |
| Vedenkestävyys | 20 atm (snorklaus) |
| Syvyys | 16 |
| Halkaisija | 46 |
| Kotelon materiaali | Hartsi |
| Lukko tyyppi | Soljen |
| Sukupuoli | Miehet |
Koko-opas

Kuinka kellosi koko mitataan
The diameter
Yleinen mittaustapa on halkaisija, mutta koska kaikki kellot eivät ole ympyränmuotoisia, halkaisija tarkoittaa mittaa joka on mitattu vasemmalta oikealle. Ota huomioon, että jotkut valmistajat sisällyttävät nupin (josta kello käynnistetään) sekä muut nupit mitatessaan leveyttä, mutta me yritämme standardoida kaikki kellot niin, että nuppi ei ole mitassa mukana.



Kellorungon paksuus
Paksuus - tai kelloprofiilin korkeus - määritellään mittaamalla kello päältä pohjaan kuten alapuolen kuvassa on esitetty. Vertailun vuoksi, 1 euron kolikko on 2.33 millimetriä paksu.
One usually defines the watches with these numbers:
Ohut: 4-6 millimetriä
Normaali: 6-12 millimetriä
Suuri: 12-14 millimetriä
Ylisuuri: 14-18 millimetriä
Muita tuotteita joista saattaisit pitää