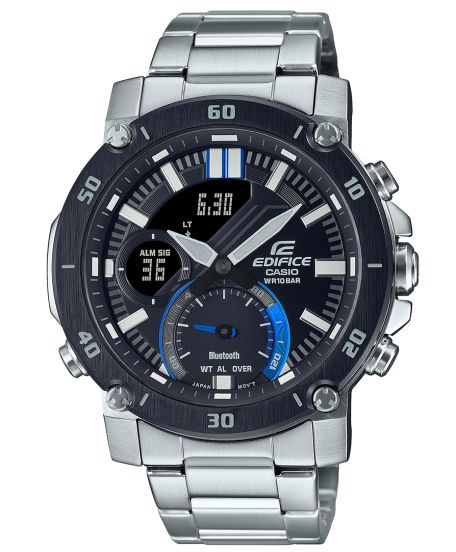 Casio Edifice ECB-20DB-1AEF
Tämän kellon on suunnitellut ja tuottanut Casio ja kuuluu heidän eleganttiseen
Casio Edifice
-kellosarjaansa. Kellot.fi on nimitetty viralliseksi
Casio -kellojen
jälleenmyyjäksi. Tämä takaa 100% aidon Casio-laatuisen takuu- ja huoltopalvelun.
Yksityiskohdat
Tässä mallissa on sisäänrakennettu Bluetooth -ominaisuus ja on osa uutta
Casio Bluetooth
-kokoelmaa, jonka avulla voit yhdistää älypuhelimen kelloosi vaivattomasti.
Super-Auto-LED -ominaisuus
Hiljattain kehitetty toiminto, jossa näyttö ja sen värit kirkastuvan kun valotaso kellon ympärill laskee. Toiminto aktivoidaan kääntämällä rannetta.
Neo-näyttö
Valoa heijastava päällyslakka tarjoaa pitkäikäisen valoa reflektoivan ominaisuuden pimeässä tilassa. Efektin aikaansaamiseksi vaaditaan vain pieni määrä valolle altistumista.
Ajanotto-ominaisuus (1/100 sek. - 24 tuntia.)
Alustava aika, kierrosaika sekä lopullinen aika voidaan mitata sadasosan tarkkuudella. Aikaa voidaan mitata 24 tuntiin asti.
Ajastin – 1/1 min – automaattinen jopa 24 tunnin välein toistuva hälytys
Ajastus voidaan asettaa akustisesti toistumaan haluamansa tuntimäärän välein jopa 24 tuntia etukäteen. Tämä toiminto on erittäin hyödyllinen etenkin, mikäli päivittäin tulee ottaa tietty lääke tai tehdä tietyt asiat samana kellonaikana. Myöskin urheilussa tämä toimii intervalli-harjoittelussa, jolloin käyttöön voi valita tuntien laskun suuremmasta alaspäin.
5 päivittäistä hälytystä
Voit asettaa jopa viisi eri aikaan soivaa hälytystä. Hälytykset asetetaan käyttäen akustista signaalia, joka muistuttaa sinua annettuna kellonaikana joko haluamaasi aikaa tai tasatunnein.
Päivämäärän näyttö
Päivämäärä näkyy näytöllä erikseen.
Löydä puhelimesi -toiminto
Kello voi aktivoida älypuhelimesi niin, että se päästää helposti paikallistettavia ääniä.
Näppäinäänet päälle/pois
Näppäinäänet voidaan ottaa käyttöön tai poistaa käytöstä toimintojen välillä. Tämä ei vaikuta hälytyksiin, ajastuksiin tai muistutuksiin.
Automaattinen kalenteri
Vaihtaa automaattisesti kuukautta eri kuukauden pituuksien mukaan. Ottaa huomioon myös karkausvuoden.
12/24 tunnin kello
Aika voidaan asettaa joko 12 tunnin jaksolle (AM ja PM) tai perinteiseen 24 tunnin malliin.
Turvamekanismi
Tästä kellosta löytyy erityinen turvamekanismi, joka estää sen rannekkeen lukon aukeamisen vahingossa.
Ranneke ruostumatonta terästä
Kestävä ja elegantti. Ranneke on tehty ruostumattomasta teräksestä joka antaa sille klassisen ilmeen.
Mineraalikide
Erittäin kestävät mineraalikiteet suojelevat naarmuilta ja kolhuilta.
Vedenpitävä 100 metriin asti (10 bar)
Kestävyys 10 baria tai 100 metriä, joten kelloa voi pitää uitaessa. Otathan huomioon että metrien määrä (100) ei kuitenkaan ole sama kuin sallittu sukellussyvyys. Tämä arvo viittaa vedenkestävyystesteissä käytettyyn ilmanpaineeseen (ISO 2281) ja on tarkka kun kello pidetään paikoillaan. Liikkeessä kelloon kohdistuva ilmanpaine kohoaa huomattavasti ja tämän vuoksi suositeltu sukellussyvyys pätee vain kellon ollessa paikallaan ollen liikkeessä alhaisempi.
Kondensaatio - tärkeää!
Radikaalit lämpötilanmuutokset (esimerkiksi saunan kuumuus tai kylmä pakkanen) saattavat aiheuttaa kondensoitumista (kellon lasin sisäpuolella näkyy tällöin pieniä vesipisaroita). Kello tulee käyttää pikaisesti kultasepänliikkeessä tai kellon huoltoliikkeessä jotta kosteus voidaan poistaa. Mikäli näin ei toimita, voi kello vakavasti vaurioitua. Kellot eivät ole kondensaationkestäviä vaikka olisivatkin vedenkestäviä. Kondesaatio ei välttämättä ole tuotannon virhe, joten se ei yleensä kuulu takuun piiriin.
Tuotekuvaus on muotoiltu erityisesti Kellot.fi:lle ja sitä ei saa kopioida tai muokata. Ehtojen rikkomisesta vaaditaan korvaus.
Toimitus
Peruslähetys - 5-10 arkipäivää
Tämä tapa maksaa 0€ tilauksille yli100 €, and 7 € halvemmille tilauksille.
Pikalähetys seurantatunnuksella - 1-4 arkipäivää
Tämä on pikalähetystoiminto ja maksaa 5€ tilauksille yli100 € ja 9 € halvemmille.
Kotiinkuljetus - 1-4 arkipäivää
Tämä on pikatoimitustapamme kotiovellesi, ja maksaa 7 € tilauksille yli 100 €, ja 12 € halvemmille.
Tekniset tiedot
Tekniset tiedot

| | |
| --- | --- |
| Tuotenumero | ECB-20DB-1AEF |
| Näytön väri | Hopea |
| Rannekkeen materiaali | Ruostumaton teräs |
| Link type on strap | Pin Links |
| Rannekkeen väri | Hopea |
| Rannekkeen leveys | 22 |
| Rannekkeen pituus | 14-23 |
| Näytön väri | Musta |
| Lasi | Mineraalilasi |
| Koneistotyyppi | Analogi-digitaalisen yhdistelmä |
| Päivämäärän näyttö | Ei |
| Vedenkestävyys | 10 atm (amme/uinti) |
| Halkaisija | 13 |
| Kotelon materiaali | Ruostumaton teräs |
| Lukko tyyppi | Käyttöönotto lukko |
| Sukupuoli | Miehet |
Koko-opas

Kuinka kellosi koko mitataan
The diameter
Yleinen mittaustapa on halkaisija, mutta koska kaikki kellot eivät ole ympyränmuotoisia, halkaisija tarkoittaa mittaa joka on mitattu vasemmalta oikealle. Ota huomioon, että jotkut valmistajat sisällyttävät nupin (josta kello käynnistetään) sekä muut nupit mitatessaan leveyttä, mutta me yritämme standardoida kaikki kellot niin, että nuppi ei ole mitassa mukana.



Kellorungon paksuus
Paksuus - tai kelloprofiilin korkeus - määritellään mittaamalla kello päältä pohjaan kuten alapuolen kuvassa on esitetty. Vertailun vuoksi, 1 euron kolikko on 2.33 millimetriä paksu.
One usually defines the watches with these numbers:
Ohut: 4-6 millimetriä
Normaali: 6-12 millimetriä
Suuri: 12-14 millimetriä
Ylisuuri: 14-18 millimetriä
Muita tuotteita joista saattaisit pitää