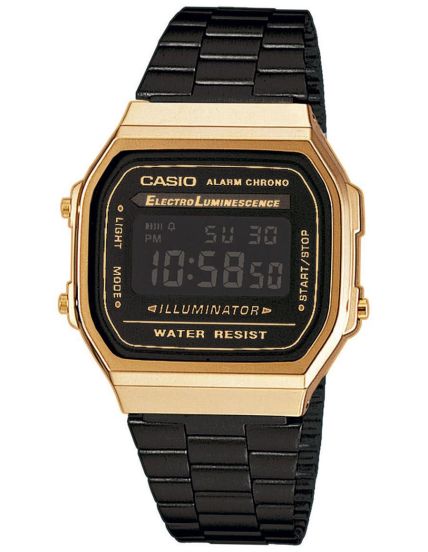 Casio Classic A168WEGB-1BEF
Tallentaa 12%
Tarjoushinta
78,00 €
Normaali hinta
89,00 €
Casio
Varastossa
1-5 arkipäivää
Tämän kellon on tuottanut japanilainen Casio ja se kuuluu heidän klassiseen- ja retromallistoonsa, nimeltään
Casio Classic
-sarja. Kellot.fi on nimitetty viralliseksi
Casio -kellojen
jälleenmyyjäksi. Tämä takaa 100% aidon Casio-laatuisen takuu- ja huoltopalvelun.
Yksityiskohdat
Virallinen jälleenmyyjä
Olemme brändin virallinen jälleenmyyjä. Tämä takaa asiakkaallesi turvan siitä, että kello on aito ja siihen on saatavilla virallinen huolto- sekä takuupalvelu.
Valaistu näyttö
Elektroluminesenssi paneeli valaisee näytön etuosan helpottaen lukemista.
Ajanotto-ominaisuus (1/100 sek. - 60 min.)
Alustava aika, kierrosaika sekä lopullinen aika voidaan mitata sadasosan tarkkuudella. Aikaa voidaan mitata 60 minuuttiin asti.
Päivittäinen hälytys
Päivittäinen hälytys käyttää akustista signaalia, joka muistuttaa valitsemistasi päivittäin toistuvista tapahtumista.
Automaattinen kalenteri
Vaihtaa automaattisesti kuukautta eri kuukauden pituuksien mukaan. Ottaa huomioon myös karkausvuoden.
12/24 tunnin kello
Aika voidaan asettaa joko 12 tunnin jaksolle (AM ja PM) tai perinteiseen 24 tunnin malliin.
Ranneke ruostumatonta terästä
Kestävä ja elegantti. Ranneke on tehty ruostumattomasta teräksestä joka antaa sille klassisen ilmeen.
Säädettävä lukitusmekanismi
Rannekkeessa on säädettävä lukitusmekanismi, jolla kellon pituutta voidaan portaattomasti säätää sopivaan melkein minkä kokoiseen ranteeseen tahansa.
.
Vedenpitävä 30 metriin asti (3 bar)
Kestävyys 3 baria tai 30 metriä, joten kelloa voi pitää uitaessa. Otathan huomioon että metrien määrä (30) ei kuitenkaan ole sama kuin sallittu sukellussyvyys. Tämä arvo viittaa vedenkestävyystesteissä käytettyyn ilmanpaineeseen (ISO 2281) ja on tarkka kun kello pidetään paikoillaan. Liikkeessä kelloon kohdistuva ilmanpaine kohoaa huomattavasti ja tämän vuoksi suositeltu sukellussyvyys pätee vain kellon ollessa paikallaan ollen liikkeessä alhaisempi.
Kondensaatio - tärkeää!
Radikaalit lämpötilanmuutokset (esimerkiksi saunan kuumuus tai kylmä pakkanen) saattavat aiheuttaa kondensoitumista (kellon lasin sisäpuolella näkyy tällöin pieniä vesipisaroita). Kello tulee käyttää pikaisesti kultasepänliikkeessä tai kellon huoltoliikkeessä jotta kosteus voidaan poistaa. Mikäli näin ei toimita, voi kello vakavasti vaurioitua. Kellot eivät ole kondensaationkestäviä vaikka olisivatkin vedenkestäviä. Kondesaatio ei välttämättä ole tuotannon virhe, joten se ei yleensä kuulu takuun piiriin.
Tuotekuvaus on muotoiltu erityisesti Kellot.fi:lle ja sitä ei saa kopioida tai muokata. Ehtojen rikkomisesta vaaditaan korvaus.
Toimitus
Peruslähetys - 5-10 arkipäivää
Tämä tapa maksaa 0€ tilauksille yli100 €, and 7 € halvemmille tilauksille.
Pikalähetys seurantatunnuksella - 1-4 arkipäivää
Tämä on pikalähetystoiminto ja maksaa 5€ tilauksille yli100 € ja 9 € halvemmille.
Kotiinkuljetus - 1-4 arkipäivää
Tämä on pikatoimitustapamme kotiovellesi, ja maksaa 7 € tilauksille yli 100 €, ja 12 € halvemmille.
Lisätietoja
Lisätietoja

| | |
| --- | --- |
| Näytön väri | Kulta |
| Rannekkeen materiaali | Ruostumaton teräs |
| Rannekkeen väri | Musta |
| Rannekkeen leveys | 14 |
| Rannekkeen pituus | 11-21 |
| Näytön väri | LCD/LED, Musta |
| Lasi | Akryylilasi |
| Koneistotyyppi | Digitaalinen |
| Päivämäärän näyttö | Kyllä |
| Vedenkestävyys | 3 atm (roisketiivis / sade) |
| Syvyys | 9 |
| Halkaisija | 36 |
| Kotelon materiaali | Hartsi |
| Lukko tyyppi | Liukuva |
| Sukupuoli | Naiset, Miehet |
Koko-opas

Kuinka kellosi koko mitataan
The diameter
Yleinen mittaustapa on halkaisija, mutta koska kaikki kellot eivät ole ympyränmuotoisia, halkaisija tarkoittaa mittaa joka on mitattu vasemmalta oikealle. Ota huomioon, että jotkut valmistajat sisällyttävät nupin (josta kello käynnistetään) sekä muut nupit mitatessaan leveyttä, mutta me yritämme standardoida kaikki kellot niin, että nuppi ei ole mitassa mukana.



Kellorungon paksuus
Paksuus - tai kelloprofiilin korkeus - määritellään mittaamalla kello päältä pohjaan kuten alapuolen kuvassa on esitetty. Vertailun vuoksi, 1 euron kolikko on 2.33 millimetriä paksu.
One usually defines the watches with these numbers:
Ohut: 4-6 millimetriä
Normaali: 6-12 millimetriä
Suuri: 12-14 millimetriä
Ylisuuri: 14-18 millimetriä
Muita tuotteita joista saattaisit pitää